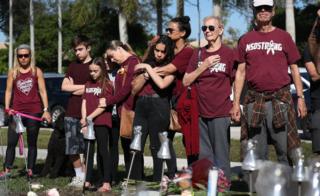 A US community devastated by a school shooting one year ago is marking the tragic anniversary with quiet mourning.
Seventeen people were shot and killed by an ex-student at Marjory Stoneman Douglas High School (MSD) in Parkland, Florida on 14 February 2018.
Students and educators across the country are also marking the day with vigils, moments of silence, art projects and other demonstrations.
On Wednesday, the Florida governor called for a renewed investigation.
How is the event being marked?
Schools in Broward County – the southern Florida region where 14 students and three school staff members were killed – will operate on a regular schedule, but students at Marjory Stoneman Douglas will hold a "non-academic" day devoted to commemoration and healing.
Classes at MSD will end before 14:20 local time, the moment the shooting began a year ago.
"Although we mourn from the lives that we've lost through a horrific act of hate and anger, I believe that we must also celebrate the possibilities of what can be through love and support," superintendent Robert Runcie. said outside the school on Thursday.
Schools across the state of Florida held a moment of silence at 10:17 local time, to honour the 17 people killed in the gun attack.
The city of Parkland is sponsoring a day of service at a park near the school and will hold a moment of silence, with a vigil to be held later in the evening.
Mental health professional and comfort dogs will be there to assist grieving students throughout the day.
Emma Gonzalez, a survivor who became a prominent student activist after the attack, said the gun control advocacy group March for Our Lives will remain silent through the weekend.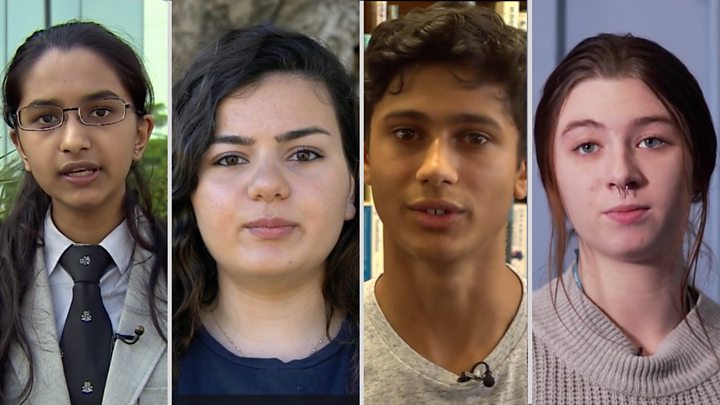 "Like so many others in our community, I'm going to spend that time giving my attention to friends and family, and remembering those we lost," Ms Gonzalez wrote in a statement.
"The 14th is a hard day to look back on. But looking at the movement we've built – the movement you created and the things we've already accomplished together – is incredibly healing," she wrote.
How else is the event being marked?
Elsewhere in the country schools are marking the anniversary with art projects or statements.
Boardman High School in Ohio will hold a "legacy lockdown" including an active-shooter drill, which organisers say is a way to help students feel safer and emergency officials to feel more appreciated.
"We turn away from the dread and have to look more toward who's helping us," Jack Pendleton, 17, told the Associated Press.
The Buffalo Teachers Federation in New York have encouraged people to wear bright orange, as hunters do for safety, and hold a moment of silence.
Republican Governor Ron DeSantis, who lead a successful effort last month to remove Broward County Sheriff Scott Israel due to incompetence, called for a new investigation into the attack in a news conference on Wednesday.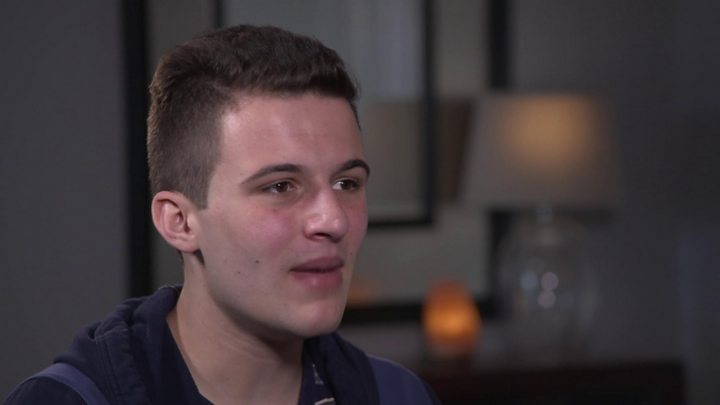 "It's clear more needs to be done," Gov DeSantis said surrounded by family members of victims, as he called for a grand jury investigation to look into any wrongdoing by the school and ways to further improve school safety.
"What's truly devastating is that the tragedy in Parkland was avoidable," he said, adding that a grand jury would have subpoena power to "get to the facts an get the truth".
In a statement, President Donald Trump pledged that he will "not rest" until US schools are made safe.
"Today, as we hold in our hearts each of those lost a year ago in Parkland, let us declare together, as Americans, that we will not rest until our schools are secure and our communities are safe."
Former President Barack Obama – who told BBC News in 2015 that it was "distressing" that the US has not passed national gun safety reform – tweeted his support to the March for Our Lives students on Thursday.
What has changed in the past year?
According to the Giffords Law Center, an organisation advocating for more gun control, lawmakers in 26 states and Washington DC passed 67 new gun safety laws in 2018.
Four states raised the minimum age for firearm purchases, and seven states strengthened or expanded background checks for gun buyers.
More than half of all 50 states passed at least one gun control measure in 2018, according to the New York Times.
Efforts to prevent mass shootings and gun crime – which account for roughly 25,000 deaths in the US each year – have gained little traction on the national level, with partisan bickering blocking any congressional legislation.
But the federal government enacted Mr Trump's ban on bump-stocks, a device that enables many rifles to fire at the rate of a machine gun.
Bump stocks were used to kill 59 people in Las Vegas in 2017 – and injure more than 400 – but were not used by the shooter in Florida.
Democrats have made gun control efforts a priority since winning a majority in the House of Representatives in November, and earlier this week took their first action to address gun violence.
On Wednesday the House Judiciary committee approved a bill that would require gun buyers to undergo background checks in virtually every single gun sale.
The bill now moves to the full chamber, and must be passed by both the House and Senate.
More on US school shootings